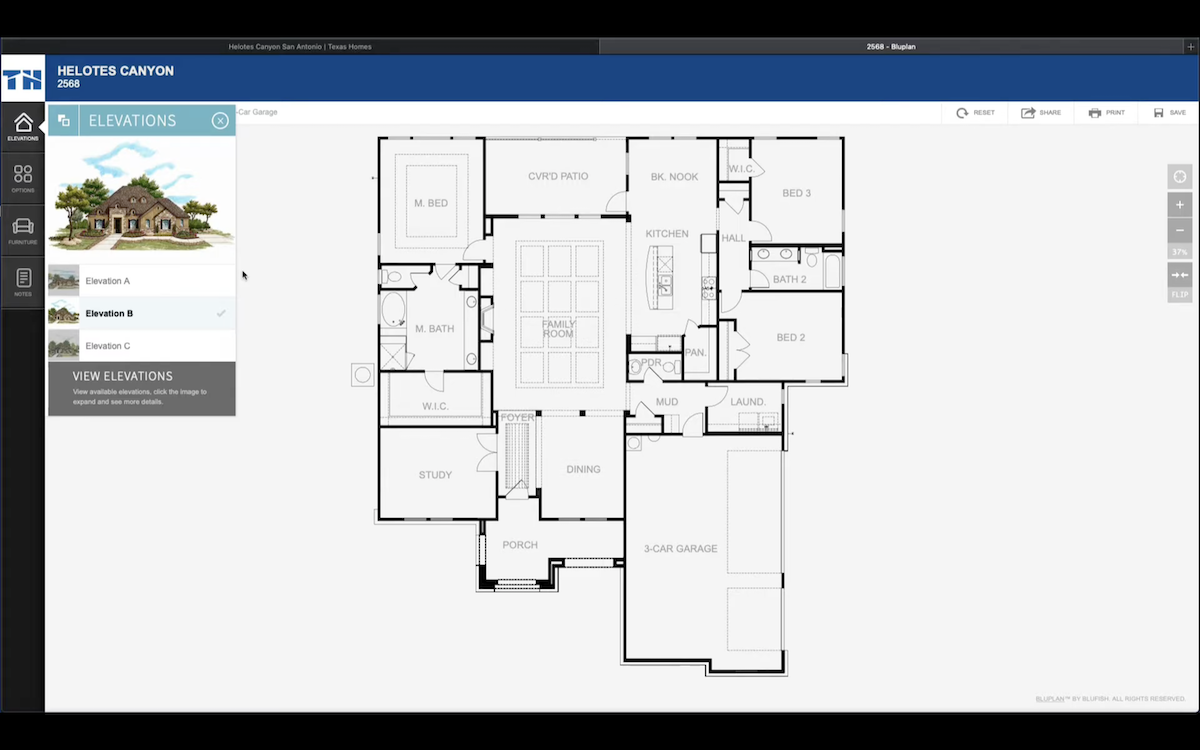 Texas Homes Quick Intro to Floorplan Designer
We're excited to introduce the latest feature to our Texas Homes website, our new Floorplan Designer! Find out how it can help the most discerning home buyers customize their perfect home. 
Transcript of video follows:
Have you ever wondered how your furniture might look placed into a different setting, but have had difficulty visualizing it? Or you've wanted to get a better sense of what a space might feel like once furnished. We've got a solution for you!
Introducing the Texas Homes Floorplan Designer. One of many helpful features of our website at texas-homes.com, our Floorplan Designer helps home buyers feel confident that they're selecting a plan that fits their needs. It even inspires home buyers to make the best use of space when they move into their new Texas Home.
To make use of the Floorplan Designer, go to texas-homes.com, navigate to your neighborhood of interest, and look for the Floorplan Designer button on a plan you would like to explore. Click the button to open a new window, launching the Floorplan Designer with your selected floor plan.
In the Floorplan Designer you'll see various details about the plan along the top menu, an option to share the plan with others, to print the plan, as well as to save the plan with any options or furniture you may have added to the plan.
Along the left side of the viewing area are buttons to view the elevations associated with the plan as well as the floor plan options that may be offered with the plan.
When viewing available options you can enable the options with a single click. For example, on this Helotes Canyon 2568 plan, convert the study to a bedroom by enabling that option. Notice how the study is converted into a bedroom, and how the perimeter of the bedroom is marked in red to make the enabled option easier to see.
Interested in a drop in tub with mud set shower in the master bath? Fine, enable that option and you'll see the plan change accordingly. How about adding a door in the master bedroom providing access to the covered patio? It's as easy as a click.
The Floor Plan Designer provides an easy way to understand how different options affect a floor plan.
You can also add furniture and other items to get up a good visual understanding of how it will fit. The Floorplan Designer allows you to easily place, rotate and reposition the furniture. Add different types of furniture to get a sense of how well it fits, how well it might function.
Want to see the plan in its original form again? You can make furniture visible and invisible, so you don't have to start over should you want to switch between views.
Another handy feature in the Designer is the notes tab. Create notes that are associated with and visible on specific areas of the plan.
When you're done modifying options, furniture and notes, click "Save". Enter your name and email address, and once you've saved your information, you'll be given a customized link to return to your plan in the future, and you'll also receive an email with the link.
Share your plan on social media. Use the Floorplan Designer on your desktop, laptop or tablet! Texas Homes works hard to present a website that enhances the home-buying experience.
As technology improves we take advantage to provide new and useful features that we hope will be helpful. The virtual floor plan designer is just one example of such features, and we hope you find it to be a valuable tool.