Elevations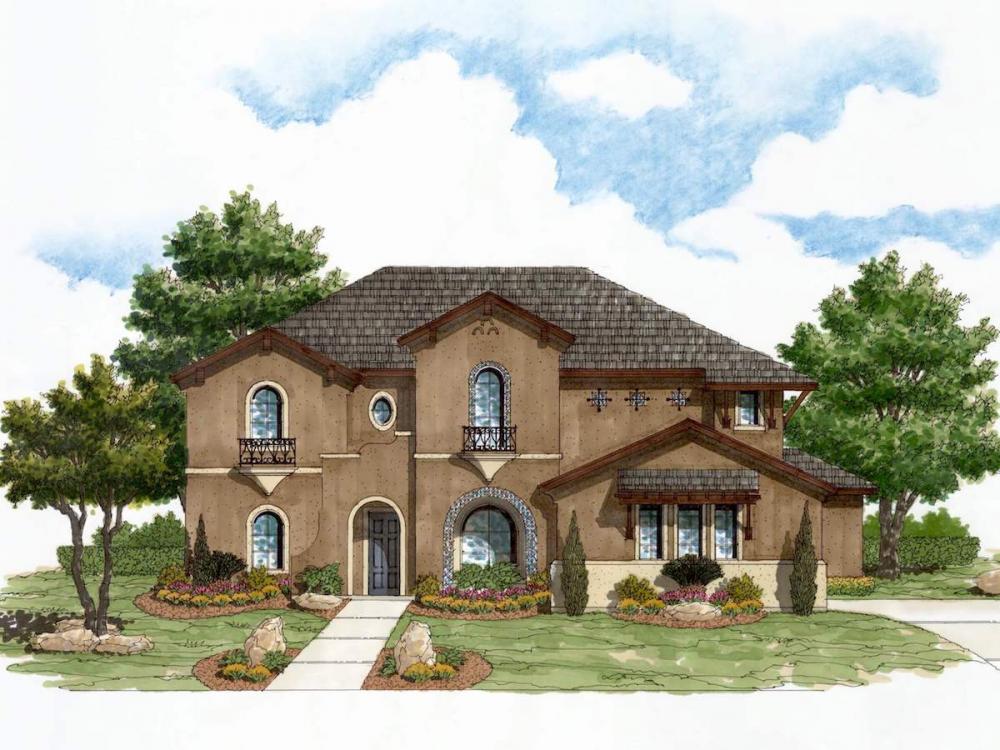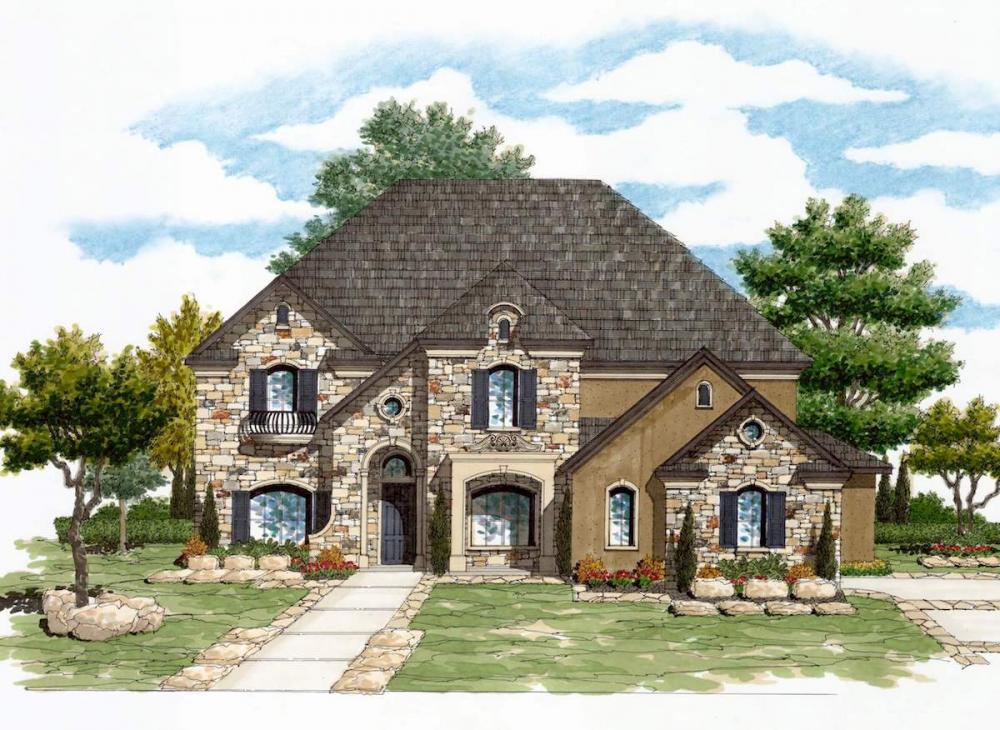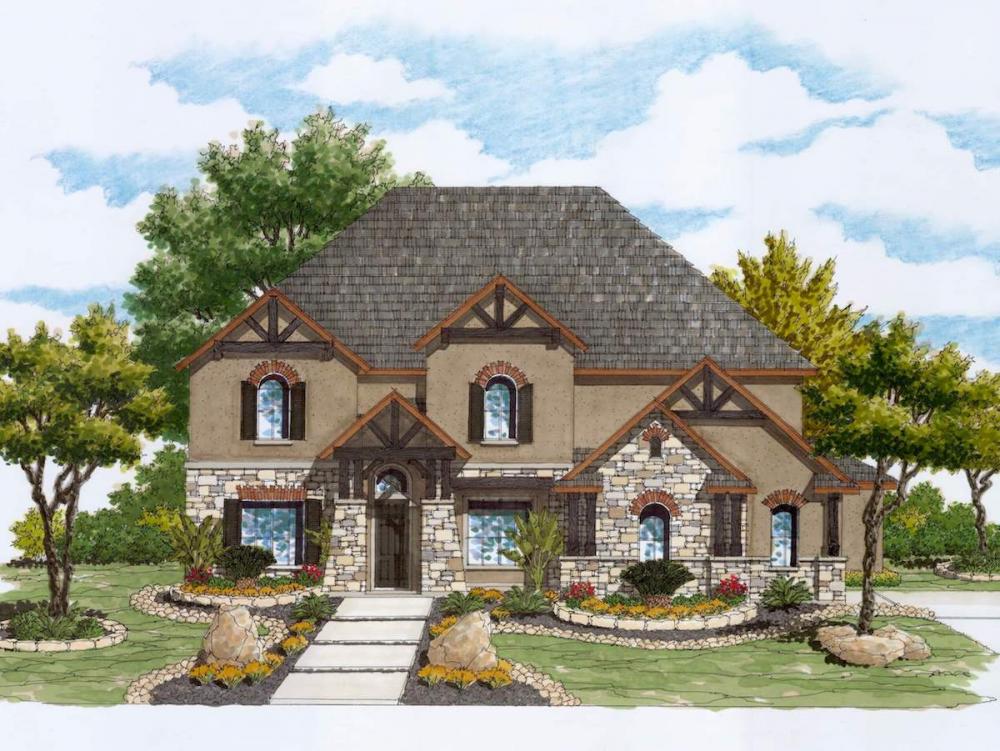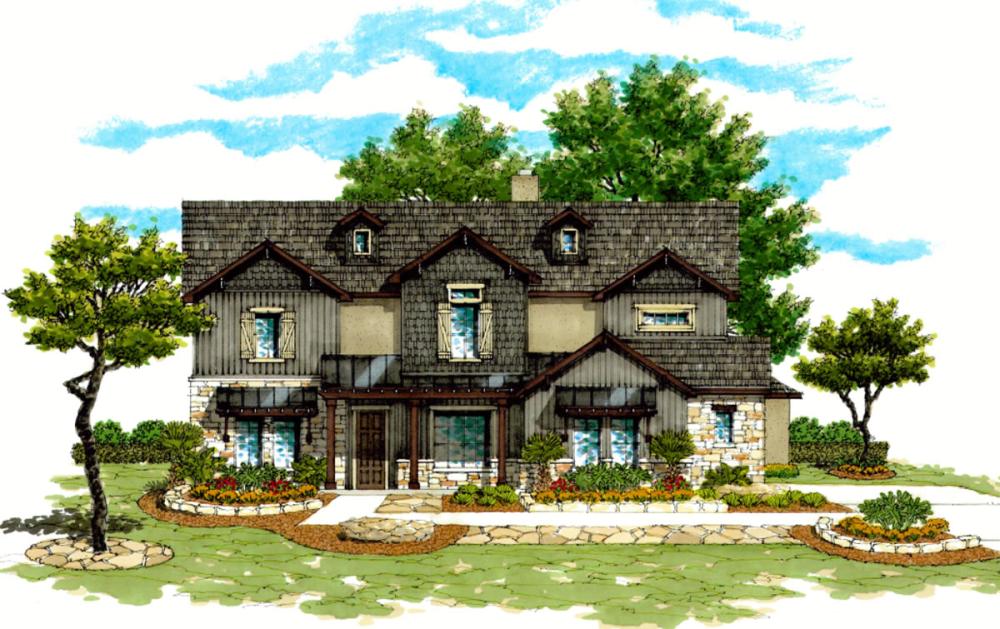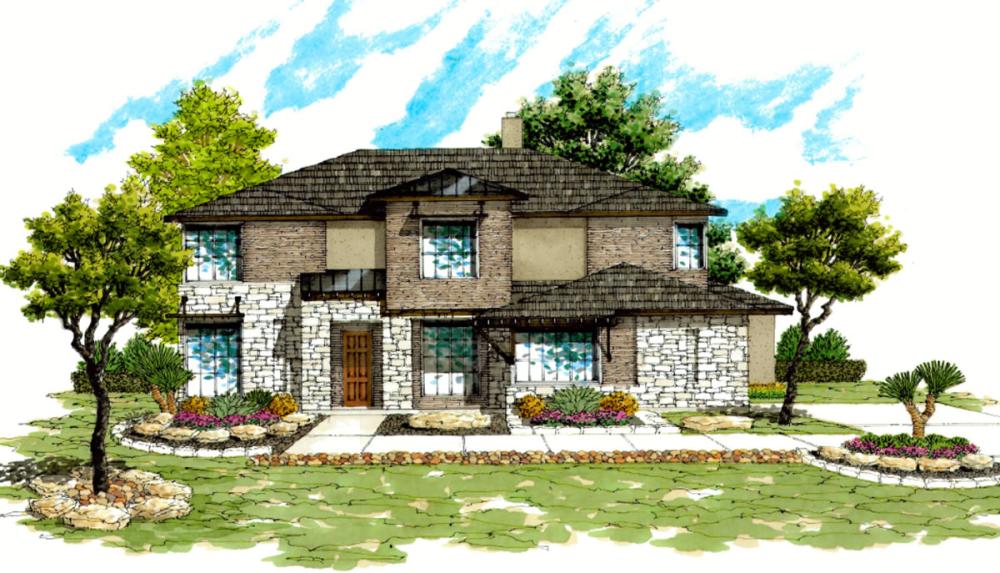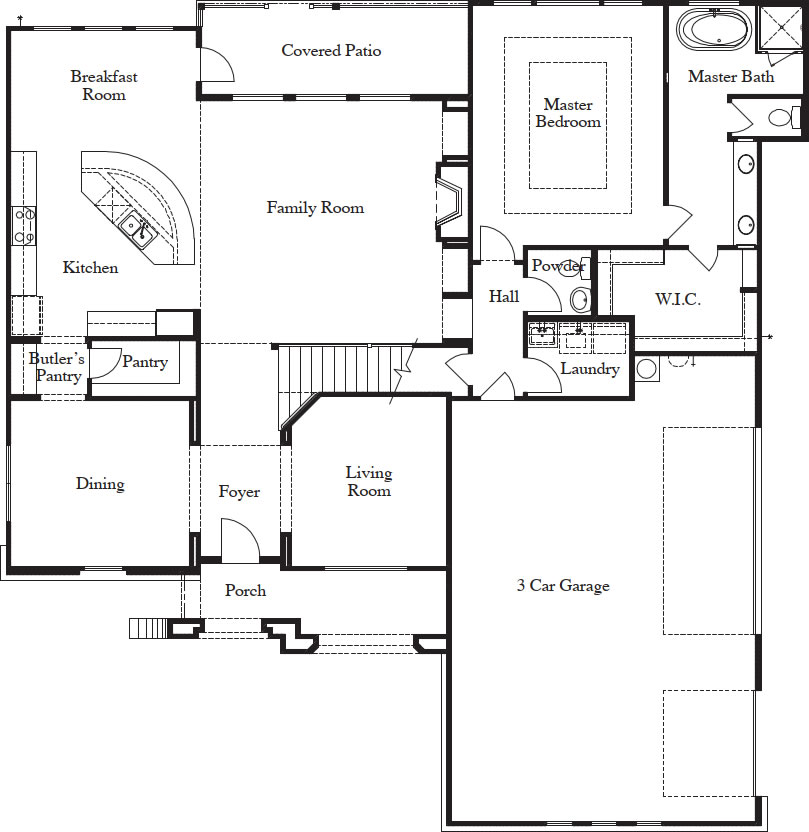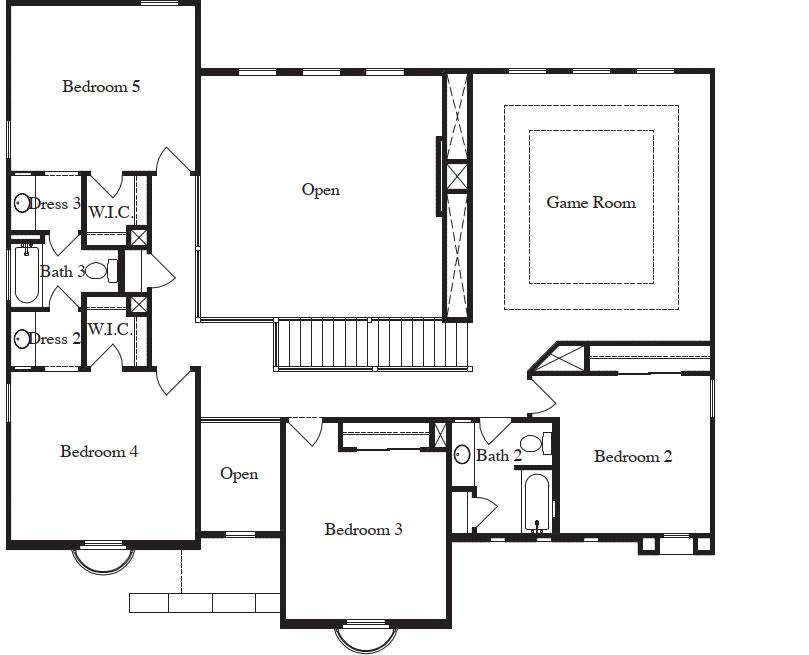 The 3835 new construction floor plan from the Texas Homes Estate Series is a masterpiece of design and flexibility. This versatile 2 to 3-story plan offers the choice of 5 to 6 bedrooms, 3 to 4 full baths, a convenient half bath, a dining room, a spacious living area, a covered patio for outdoor enjoyment, and a generous 3-car garage. Upon entering, you'll be greeted by a grand two-story foyer and great room that set the stage for elegance and spaciousness. The great room seamlessly flows into the gourmet kitchen and breakfast area, creating an open and inviting atmosphere perfect for both everyday living and entertaining. For added convenience, the dining room can be accessed from the kitchen through a butler's pantry. The master bedroom, located on the main floor, offers a tranquil retreat with its tray ceiling and leads to the luxurious master bath featuring a standalone tub and a mud-set shower. The secondary bedrooms are thoughtfully situated on the second floor, providing privacy and separation. Additionally, the second floor boasts a large game room for entertainment and relaxation. For those seeking even more flexibility, there's an option for a third-floor media room, accessible through stairs in the game room, and the possibility of adding a casita for multi-generational living. The Texas Homes Estate Series 3835 floor plan offers a harmonious blend of luxury, practicality, and customization to suit your unique lifestyle.
About The Neighborhood

Build On Your Lot
Choose from a wide selection of floor plans
Custom Plans Available
Take advantage of the Texas Homes Design Center to assist you in making interior design selections
Make your new home a perfect reflection of your lifestyle
Choosing a builder to construct your dream home on your own lot can indeed be a daunting and time-consuming task. However, Texas Homes is here to simplify and expedite the entire process for you. We have streamlined our Build on Your Lot program pricing for our Estate Series of homes to be built on a standard acreage lot.
To get started, all you need to do is set up an appointment with Steve Coker, a seasoned expert with extensive experience in the field. Steve will personally meet with you to review your lot and help you select the ideal plan from our Texas Homes Estate Series. With our guidance and expertise, building your dream home on your lot becomes a straightforward and efficient journey. Let Texas Homes transform your vision into reality.
The Texas Homes Build on Your Lot program proudly features the award-winning Texas Homes Estate Series of floor plans, offering a wealth of options for customization to make your dream home a reality. Here are several compelling reasons to choose Texas Homes for your Build on Your Lot project:
1. Experience: With a remarkable track record of constructing over 6,000 homes in San Antonio and its surroundings, Texas Homes brings unmatched experience to your project. Steve Coker, with over 30 years of dedication to Texas Homes and heading the Build on Your Lot Program since its inception in 1989, offers invaluable expertise. Whether you're building on an acreage lot or within city limits, our experience ensures a successful homebuilding process.
2. Choice: Texas Homes provides a wide selection of contemporary and Texas Hill Country floor plans, allowing you to choose the one that perfectly suits your lifestyle and preferences.
The Texas Homes Build On Your Lot program proudly showcases the Texas Homes Estate Series of floor plans, offering a range of design options to suit your unique style and preferences. Within the Estate Series, you'll discover five distinct elevations, each with its own distinctive character:
Spanish Villa: This elevation exudes warmth and Mediterranean charm, featuring elements such as stucco walls, arched windows that transport you to a Spanish-inspired paradise.
French Country: Embrace the timeless beauty of French country architecture with its rustic elegance and blend of natural materials that create a cozy and inviting atmosphere.
Mountain Lodge: Experience the rugged yet refined allure of a mountain lodge, characterized by stone accents, timber beams, and expansive windows that offer breathtaking views of the natural surroundings.
Hill Country Farmhouse: Capture the essence of Texas Hill Country living with a farmhouse elevation, complete with wide porches, metal roof accents, and a harmonious blend of modern amenities and rustic charm.
Modern: For those with a contemporary aesthetic, the modern elevation features clean lines, minimalist design, and sleek finishes that create a sophisticated and cutting-edge look.
With the Texas Homes Estate Series, you have the opportunity to select the elevation that resonates most with your personal style, ensuring that your dream home reflects your taste and vision. These plans offer options for adding bedrooms or repurposing rooms, ensuring that your home is tailored to your specific needs. Additionally, Texas Homes offers plans with Casitas, perfect for multi-generational families, guest accommodations, or extra garage bays.
Visit the Texas Homes Design Center, where our skilled design professionals can assist you in selecting colors, appliances, and interior designs that reflect your unique style and personality.
3. Quality: At Texas Homes, we take immense pride in using only top-quality materials to build durable and beautiful homes that stand the test of time.
4. Customer Service: Building a new home on your own homesite is made effortless with the support of our experienced professionals at Texas Homes. We are dedicated to assisting you throughout the entire process, from conception to completion. Customer satisfaction is our utmost priority, and we are committed to making your homebuilding experience smooth and successful. Choose Texas Homes for the experience, choice, quality, and customer service that set us apart.
Visit our Bent Tree model home for information:
Model Home
103 Bent Tree Drive
Boerne, TX 78006
Model Home Hours
Tue-Sat: 10 a.m. to 6 p.m.
Sun-Mon: 12 p.m. to 6 p.m.